I love my work. Sometimes more than I should. Which is why it can be hard for me to unplug, even when I know I should. I can keep working long past what's wise or healthy, which isn't good.
It's not that I don't know better. I do. Hey, I'm a pastor and pastors know these things, right? I tell people all the time that they need to slow down and take a break every now and then. I really do want to be like Jesus and "get away and rest awhile," even when there's something or someone that needs time and attention. It's not like Jesus ever faced a day when there wasn't something more that He could do. Even Jesus unplugged.
And it's not like God had to stop working. He certainly could have kept on creating things for more than six days. But he didn't. He worked for six days and then He took a break and rested.  He stopped working and unplugged.
I had a bunch of things this week I could have done. My "To Do" list for my work as a pastor and for my other personal ministries is really long right now. With a lot of deadlines up ahead.
I know I'm not alone in the struggle to unplug. Can you relate? Is it hard for you to set aside all the things you could be doing for work and just take a break?
I didn't look at one work related email this week. Not one. Instead I spent the entire week hanging out with our family in Disneyland and at California Adventure.  And instead of focusing on emails, I got to see and live out moments like this.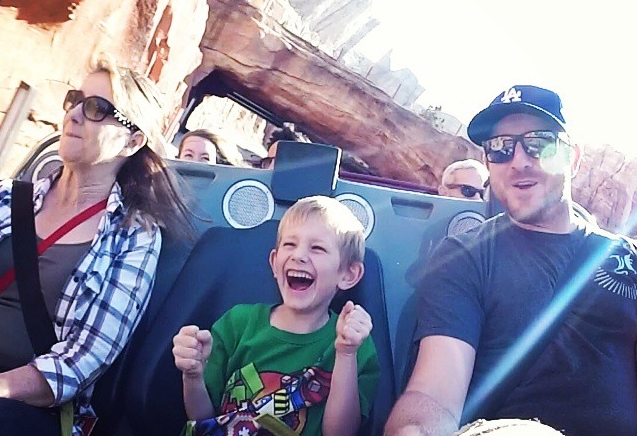 My wife, Bernice, is on the left. My second son, Brian, is on the right.  And in the middle is our oldest grandchild, Camden. That is pure joy you see on his face!
Now you tell me – was it wise for me to unplug from work and plug into fun and games with my family for the week? From my perspective, it was the best choice I've made in the past few months.
By Dave Gudgel